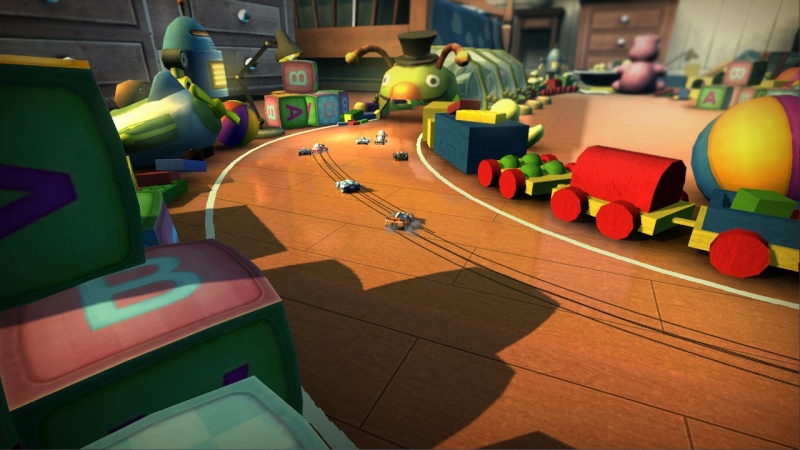 Previously released on PC by Eclipse Games, Super Toy Cars has managed to drift onto the Wii U eShop, and aims to recreate the enjoyment of classic arcade racing games which had previously inspired the developers. By drawing inspiration from games like Super Mario Kart and Death Rally, among others, Super Toy Cars attempts to recreate a classic racing experience with modern graphics and additional features.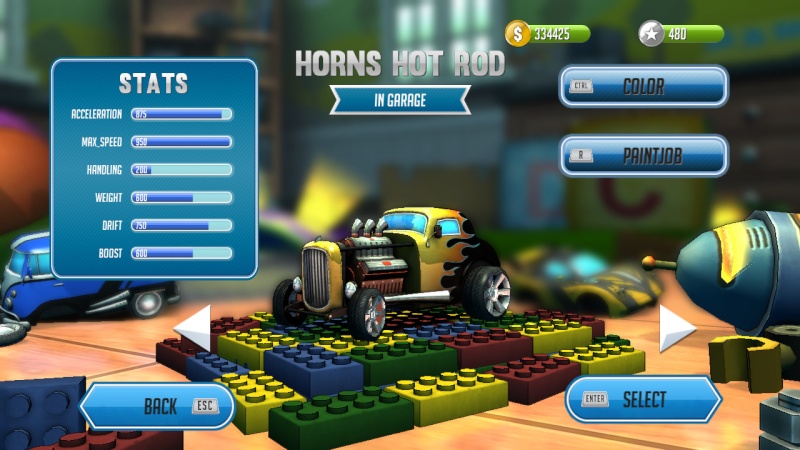 As the main section of the experience, Super Toy Cars presents you with 8 Episodes, each filled with 6 individual races, for a total of 48 main levels. These all vary in objective in an attempt to keep the game from stalling out, including Time Trials and Elimination modes to keep racers on their toes. Every mode is used fairly evenly, and does a decent enough job of varying up every level. The levels themselves are all located on one of 12 courses, each featuring a recurring theme such as a Child's Room or a City Street. The themes tie in nicely with the Toy Car factor; and each of these settings feels like an actual place a toy car race could be held (well, minus the street... don't try that one at home).
Upon completing each level you are awarded anywhere from 0-10 points, demanding a top spot for the full amount of points. These points unlock future Episodes, with 40 required to open each one. This is a nice execution of balancing, as each episode becomes more difficult than the last, which lets the average player move along fairly quickly. Besides points, drivers also recieve money to spend on new cars and upgrades to their existing cars. The cars all look as sleek and stylish as a Toy Car can be, with different colors and designs available for each one to suit anybody's tastes.
After finishing the 2-3 hour campaign, your ride isn't over just yet. Besides replaying the main levels for perfect scores, you can also head into Local Multiplayer mode with up to 3 other friends, online not being an option. There are 12 courses to choose from, all from the main game mode, and every car is unlocked automatically; making Multiplayer an easily accessible option straight out of the virtual box. Multiplayer isn't perfect though, and actually shows off all the issues with the racing. While automatic respawning on the track after hitting obstacles is a great idea, it sometimes fails to register, or does so at an inopportune time. The addition of a respawn button alleviates the issue somewhat, but it is still there.
Another strange feature is getting stuck in obstacles, which happened to us multiple times, and once even froze our system. While the hits are supposed to slow you down, they shouldn't stop you, even if it is a rare occasion. Also present in the mode are items, which can be picked up by driving into them, and thrown with Y. The items are all very balanced, and this makes the game based on skill, perhaps too much so for an arcade racer, as a recovery from a bad hit in the back of the pack is difficult to recover from, especially for inexperienced drivers trying out Multiplayer. Overall though, the multiplayer mode does offer a solid time, even with its struggles.
The final mode is an extensive Track Editor, allowing you to create your own playable tracks for Multiplayer mode. While it is nice to see such care taken into this mode, an obvious omission arises; the lack of a tutorial is strange, as the editor is by no means simple. Players are left to try out what every button does, which by no means ruins the mode, but rather makes it seem a bit overwhelming at first. Once you explore your options you can test the course, and this is where another odd feature comes in - you can drive straight off the edge of the ground into a grey, bleak nothingness. This again is not a major concern, but rather something the developers shouldn't have overlooked. The track editor is still a very enjoyable diversion, and even brings some much needed longevity to Super Toy Cars.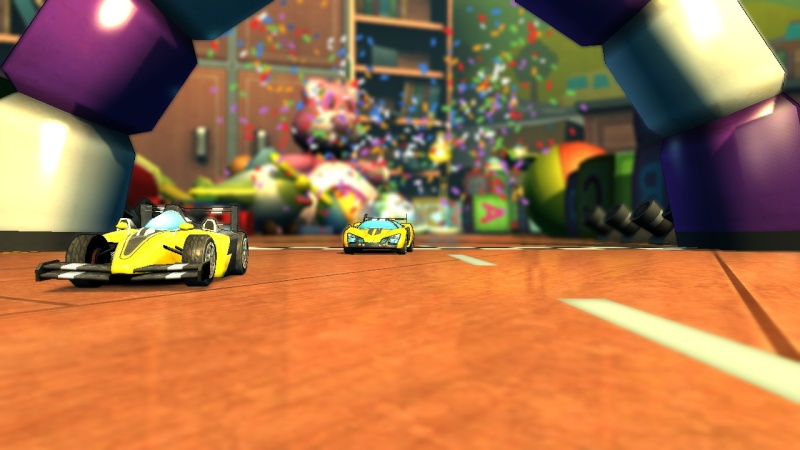 After racing around with Super Toy Cars, you may begin to feel that the game simply isn't complete; with its occasional glitches, odd handling around corners and unfinished editor, it may sound like the whole game is simply a mess. However, don't let this deter you from what is otherwise a fun racing game, rather go in not expecting perfection. Eclipse Games managed to bring the old school charm through to a game alongside modern features and graphics, and the low price point is nothing to ignore either. Racing fans and casual gamers alike would all enjoy Super Toy Cars for its charming premise and racing action, as well as a Local Multiplayer mode and Track Editor, but shouldn't be expecting anything more.
Review copy provided by Eclipse Games.