Discusses Hive Jump, Kickstarter and Kicking Alien Butt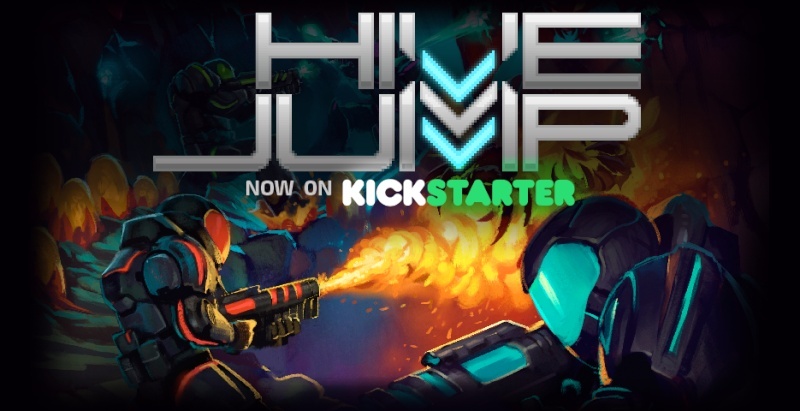 We recently had the pleasure of interviewing Matt Donatelli of Graphite Lab, a company who has taken its first game to Kickstarter in the past weeks. Hive Jump is still working on reaching its goal of being funded, but the game looks spetacular, and the odds for its success seem high. Here to tell you more about their game is Matt:
Would you like to introduce yourself to the readers?
I'm Matt Donatelli, lead designer of Hive Jump. I'm part of an amazing team of game developers called Graphite Lab. By day we make children's educational games and mobile apps, and by night we've been making our dreams of Hive Jump a reality. Hive Jump is the game that we want to play as gamers and co-op junkies, and we want to share that experience with everyone!
 For those that don't know, could you give the readers a brief description of your game, Hive Jump?
Hive Jump is non-stop alien butt-kicking action. You and your friends assume the role of JUMPERS, and blast your way through subterranean alien hives in run-and-gun 2D platforming action. Kill aliens, avoid traps, collect resources, and defeat the hive queen lurking at the bottom of the hive to complete the JUMP. 
What features of Hive Jump are you most excited about?
I'm most excited to blend our run and gun hive jumping action with strategic planetary campaigns. Players are going to love planning their next attack, fortifying their human bases, and defeating the alien menace hive-by-hive and planet-by-planet! I'm also really excited about all the mini-boss fights that will be going into the game, as well as the ultimate hive queen boss battle showdown! Finally, we're also excited about a special 4 v. 1 gamemode we are planning for the Wii U version of the game, in which 1 player plays as the hive queen using the Wii U GamePad.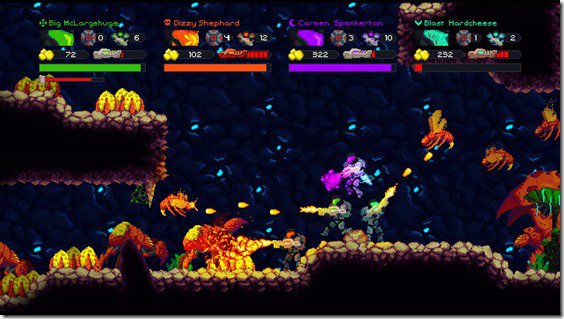 Why decide to go to Kickstarter? Were there other any other options for funding?
Kickstarter is a great way to connect with gamers looking for new experiences. We've received tons of feedback and support from the Kickstarter community in our campaign so far. This has helped us adjust certain features and make changes to the game that improve the overall fun factor.
The Kickstarter funds, if we're successful, will go towards accelerating the production schedule by bringing on new team members. Because we have a solid work-for-hire business, we approach Kickstarter with a backup plan for self-funding in case the funds don't come through. The downside: self-funding will take MUCH MUCH longer as it requires us to save our pennies doing contract work before we could resume development on Hive Jump. 
How has development on Hive Jump progressed so far?
Hive Jump has been a joy to work on. We've been putting in a lot of nights and "Hive Jump Saturdays" to get as far as we have in the last 8 months of development. The team is made up of super talented people who are putting their blood, sweat, and tears into this game.  Each element in the game comes from the heart of each team member. There's so much unique character to the game, and I can't wait to see it come to life!
We understand that it takes a lot of motivation to develop a game of this scope. What exactly makes Hive Jump special, to you as developers, in order for you to pursue this game?
I think I touched on it above. There's just so much uniqueness to each element of the game. Our aliens aren't your standard xenomorphs, they're these weird crustacean-like creatures with bright orange carapaces. Our weapons play off of standard sci-fi weaponry, but then go totally crazy when you upgrade them! Triple-barreled flamethrower? Yes please! Our levels are also procedurally generated, a very fun and common technique in indie games now-a-days, but we've achieved a very organic hive-like structure, and we'll also be hand-crafting challenging Relic Rooms that hold treasures. Hive Jump has a lot of common game elements, but each one has a unique little twist, which I think it what makes it hard to describe but so much fun to work on! 
If you could be guaranteed to hit any single stretch goal, which would you choose and why?
Personally? I would choose "The Ship" stretch goal. Why? Because it would allow us to add a whole new level of storytelling and depth to the game. We're already going to have awesome run and gun action, strategic campagins, but if we got to add The Ship to the game, we'll add so much more. You could walk around a H.S.A. Spaceship, talk to a wide variety of crew and officer NPCs, manage your weapon and arsenal upgrades in a hands-on manner, access the ship's database for alien lore, and so much more! There would even be certain conversation chains and secrets to unlock, not to mention the ability to tell a complete story revolving around the war with the Ordovicians. 
From which games and series does Hive Jump draw inspiration from?
Definitely Spelunky, in terms of level design and platforming. The run n' gun action of old classics like Contra have also been very influential. Also, the way XCOM blends their campaign with tactical action, has inspired us to blend our run n' gun action with strategic planetary campaigns. Finally, the art style owes a lot to studying Super Metroid, but adding our own unique twists and Sprite Lamp dynamic lighting.  
Will the Wii U version have any exclusive features not found on other platforms?
As mentioned above, we plan on adding a special game-mode that utilizes the Wii U GamePad. This mode would team up 4 players as Jumpers, against 1 Hive Queen player. The Jumpers would proceed on a hive jump as normal, but the Hive Queen player would be able to spawn in waves of special aliens, set traps on the fly, try to separate the jumpers from one another, and generally try to ruin their day. We think this would be a blast, but the ability of us to achieve these goals and game modes is definitely tied to the success of the Kickstarter campaign!
Is there currently a potential release date for Hive Jump?
We're giving ourselves another year to finish the game, so sometime in the summer of 2015. In the meantime, you'll be able to back us on Kickstarter for access to Alpha Builds starting at the $35 tier.  
Finally, is there any exclusive information you can reveal to 8 Bit Forward?
Hive Jump will be coming to PAX PRIME! We'll be sharing a booth with Delver's Drop, and can't wait to share Hive Jump with everyone!
A huge thanks to Graphite Lab and Matt Donatelli for this interview, and best of luck with Hive Jump!
You can find Hive Jump's Kickstarter page
here
, and their official website right
here
. If you want to see Hive Jump become a reality, don't forget to support Graphite Lab!