Released earlier this year, the original Tappingo delivered a streamlined, yet addicitve, fun puzzle game for 3DS owners at a budget price. Quickly attempting to replicate the success original, Goodbye Galaxy Games developed and released Tappingo 2; a sequel of sorts, one which offers more of what made the original great along with some minor improvements.
A puzzle game is nothing without a clever or addiciting idea, and Tappingo 2 certainly isn't lacking in either department. With an oh so simple flick of your wrist, you are able to turn over 100 pixelated disasters into true works of retro art- and when we say a disaster we mean it in the best way, as the top screen displays your work in progress in all its glory, which begins as a pixelated collage. In order to fully complete a level and complete the image, you need to swipe the stylus in order to extend a row of blocks in one direction, with each row displaying a number of pixels which the row should extend out.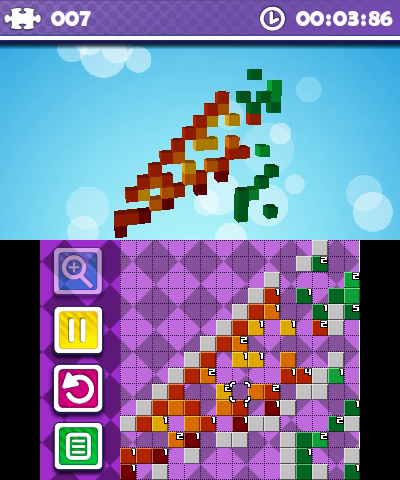 Sounds simple enough, right? Well, there's always a catch (you didn't really think it was that easy, did you?) and Tappingo 2 is no different- you have no direct control over how long a line of blocks is. Any pixel you flick in any direction will continue on until it hits an obstacle, and this is where thinking ahead comes in. Plotting out which blocks to move where at what time, and which other blocks to stop them with, molds together to create a very engrossing puzzle experience unlike most others.
Figuring out which blocks to move when, and where to position them, is vital to your success in Tappingo 2, as you'll be tackling progressively more challenging puzzles. While the difficulty curve is nice with the addition of larger and more complex puzzles, no new gameplay elements are added throughout the game; once you finish the tutorial you could essentially complete the last level with no problem. As such, it makes sense for the levels to all be accessible from the get go, but at the same time limits the game to be slightly stagnant in ceativity. The puzzles are all enjoyable enough, but there's less of an incentive to actually finish Tappingo 2 than if the gameplay was kept fresher.
It's a good thing then that the puzzles themselves are all unique enough to drive most players to finish them all; some things you'll include will range from simple animals to sports equipment and even a few familiar faces mixed in. To help you out with these newer puzzles, small, yet largely important, upgrades have been included in Tappingo 2. One such update is the inclusion of faint lines to seperate similarly colored blocks from each other, increasing the clarity of each work in progress. The addition of a zoom button for larger puzzles is also a welcome addition; though the zoomed out screen certainly has no issues zooming is sure to please everyone.
Tappingo 2's presentation is simple yet almost perfect for the experience it aims for, with a retro yet slightly calming selection of tracks to more fully immerse you within its puzzles. This approach allows you to simply lie back with a stylus and flick away the game's 5-6 hours in this one more go game, but also has button controls for those of us who prefer absolute precision. And at the short and sweet 2-10 minute range, levels are perfect to be played all together in one marathon session, or individually on the go- either works equally well.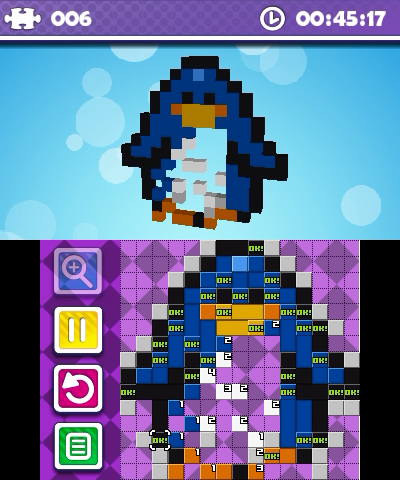 Tappingo 2 is the kind of sequel that actually accomplishes what it set out to do, and the manage to top the original version. With over 100 new puzzles, a few updates and some overall polish, Tappingo 2 emerges as one of the best puzzle games to hit the 3DS eShop, and at an affordable price nobody can pass up. Wether puzzles are your thing or your you simply are looking for a game to help you unwind, Tappingo 2 is worth a purchase, as its simple yet addiciting puzzles will keep most coming back all the way to the very end.
Review copy provided by Goodbye Galaxy Games