It's Lonely at the Top, Thomas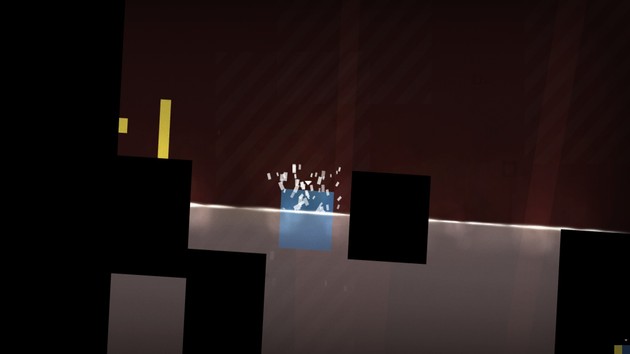 Long before there existed the concept of
Thomas was Alone
, Artificial Intelligence was created. What if the nonhuman beings actually had taken on life? How would they react to their surroundings? Such questions are examined, and tackled, in the expertly crafted narrative that is Thomas was Alone.
You control Thomas, and his many other comrades, in the goal of progressing through each level in order to unravel the plot of the game. Each level is narrated by Mike Bithell, who does a wonderful job of breathing life into each polygonal character. The narration is the most memorable piece of the experience, and manages to create life in the otherwise lifeless characters.
The levels themselves are all simply drawn, 2D levels filled with puzzles focusing on teamwork to solve. Switching between each of the characters is necessary to progress through a level, and despite controlling one character at a time you'll need to use teamwork to progress. Some characters jump higher than others, or move faster, or even float on water. This allows the group to move as a whole by helping others through obstacles. The level design is magnificent, with the puzzles seamlessly executed and perfectly placed in each level. The game ramps up the difficulty perfectly as well, making Thomas was Alone puzzling yet accessible to all.
Between the level design and the story, Thomas was Alone is above and beyond most anything available on the Wii U eShop. However, beyond the story (and the extra included free DLC levels from other releases) there isn't much left to do. The levels are fun to replay, though not as challenging the second or third time, and really after a few hours you're adventure will be completed.
Regardless of the length, Thomas was Alone expertly crafts an outstanding, fully voiced narrative starring a group of mismatched shapes on an adventure. Progressing through every level is a blast and is sure to bring a smile to any gamer's face. Thomas was Alone is one of the finest games to hit the Wii U so far, due to its compelling narrative, sensational puzzles and charm.