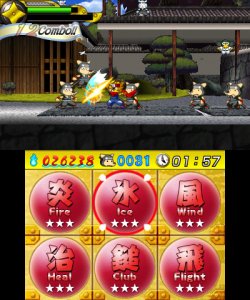 There is an old saying to never judge a book by its cover, and while Ninja Battle Heroes isn't a book, the saying still applies. Most gamers would judge this game upon its name and anthropomorphic cast of anime heroes alone, ignoring it altogether. Thats a real shame, as this game from Tom Create is one of the best action titles on the eShop.
Playing as Saizo Kirigakure, the only remaining member of the Beast Brigade, you must find and rescue your teammates, and figure out why they went missing in the first place. Each member of the Brigade has their own personality and are easily memberable, with most of the story being told via dialogue boxes during gameplay.
Speaking of gameplay, the gameplay is top notch. The controls are precise, and the gameplay is challenging but rewarding. Anyone who has played Shinobi III on the SEGA Genesis will feel right at home control wise. The difficulty however is nowhere near as maddening as Shinobi, allowing for most gamers to be able to see the ending. Each stage does contain three additional objectives besides reaching the ending of the stage, such as getting a certain score, or beating the level in 30 seconds.
Saizo can attack with his shurikens and katana, the former come in an infinite supply, and the latter can only be performed when an enemy is within range. If enemies are not within katana range, a shuriken will be thrown instead. You also have the option to block with a shield akin to the Super Smash Bros. shield. For those unfamiliar, the shield is a bubble that surrounds you, but slowly gets weaker and weaker the longer you have it activated and take damage. There is also the chance to perform an ultra guard, which is activating your shield at the moment you are attacked, then counter attack. Upon defeating enemies, you can collect spirits.
Spirits are in game currency and collected by pressing A, drawing them near you. Spirits are also used to activate skills, however, you need to have the skill first, and the number of skills you can have at one time rises throughout the game starting with one and capping off at six. The skills can summon partners to help you, or heal you, allow you to attack with fire, etc. Experiment and find the set of skills that works best for you.
While Ninja Battle Heroes isn't an innovator in the graphics or music department, it certainly doesn't fall flat in either setting. The music and graphics each do a great job in making the gamer feel like the are in a feudal japanese time, and go very well with the art design of the game.
Ninja Battle Heroes will likely get ignored by many just because of its name and choice of cast. If you can look past first impressions, and see the true gem that his title is, you will be in for a long ride. For 2.99, Ninja Battle Heroes offers fantastic gameplay, and top notch controls that will allow for a great experience. If you love action titles, you would only be hurting yourself not to have this eShop Gem in your collection.
Review copy provided by Tom Create Games