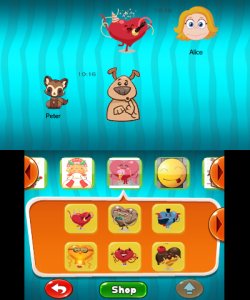 Ever since Swapnote was shut down on 3DS, there has been a noticeable absence of a messaging system on Nintendo's current handheld. Teyon's Chat-A-Lot attempts to fill this void on 3DS by offering a app that provides voice chat and text messaging with friends from your friends list. Since this isn't a free app however like Swapnote was, the chance of having friends who also have Chat-A-Lot rather slim. However, this conversation app does get the job done, not flawlessly, but produces results.
Upon starting the game, you will see it is aimed towards children, from the avatars to the loading screen, a child-like essence is being emitted from this game. Logos, buttons, menu screens, they are all designed with children in mind. It makes using your 3DS feel like using a toddler's Fisher Price interactive phone. Unlike those toy phones however, Chat-a-Lot can actually make phone calls through voice chatting. While a conversation can be held, the microphone is terrible for talking to others, and the sound that is given off contains a lot of feedback. We only tested it with two users, and had difficulties, yet Teyon claims it will support up to four people.
Thankfully Messaging works better than Voice Chat. Supporting up to ten friends at once, Messaging works just like a chatroom, you are given the option to draw, type or insert emoticons. There is another option that made us say why why why when we saw it, an option to load images from the 3DS album. However, we were wrong and another Swapnote fiasco was avoided. This option is to save drawings you have made before you send them, then have the option to resend them later. Attempting to figure out what this option was and how it worked took a good twenty minutes due to a lack of labels throughout the game. Everything has a cute piece of artwork attached, but sometimes the lack of a title made decrypting the buttons ability harder than it should be.
Most surprising in Chat-A-Lot is the inclusion of a DLC shop. As of February 1st, 2015, there has not been any content added, but we can guess that more avatars and emoticons would have been put up for sale. Almost as surprising was the lack of a local play element to the game, as its functions are online only. Seeing how this game was geared towards the 3DS' younger users, it is odd that being able to play off the grid wasn't an option, especially considering the popularity of Pictochat on the original DS.
What would have made this app a must have for every 3DS owner would been using the notification settings within the system. Whenever you receive a new message, a blue light could have flashed, just like Swapnote used to. Or when you get a call for instance, the blue light continually flashes, just like a phone rings repeatedly. Alas, these are just the ideas of this reviewer, not actual features within the game.
Ultimately, everything Chat-A-Lot has to offer can be found somewhere else in everyday life. While all of the features do work, anyone with access to a telephone, computer or even tablet would not chose Chat-A-Lot over any of the previously listed options unless they had no choice. Chat-A-Lot is best suited for children, just as it was designed for, from its cartoonish avatars to menu icons. If those design choices don't steer you away, then pick this game up. We just recommend convincing some friends to do the same first.
Review Copy provided by Teyon