Adventures Fit for a King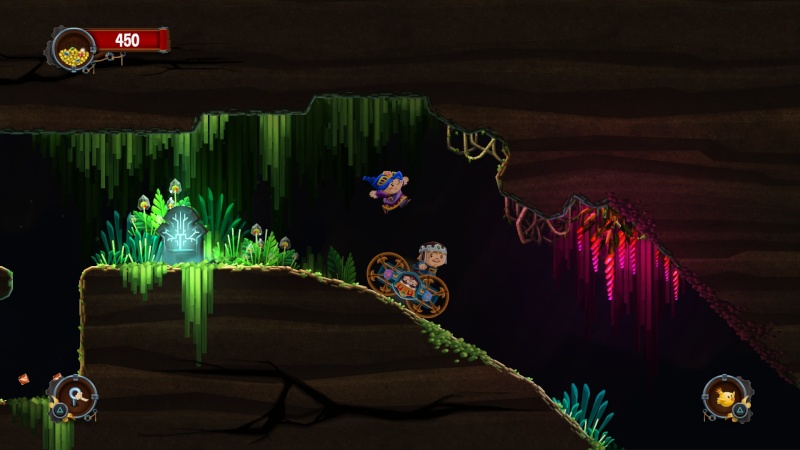 Despite the best efforts of Nintendo, online multiplayer is slowly behinning to overshadow the local variety on its systems. The Japenese company continues to release titles which promote two or four players sitting on a couch and having a good time, but not many other developers step up to this level of commitment to local multiplayer. Chariot by Firma Studios is a title that manages to step up to this challenge while managing to remain unique and interesting at the same time.
It is a well known bit of trivia that when Kings in some countries died in years past, they expressed a strong desire to be buried in an elaborate burial ground with plenty of riches to see them off of this life. This concept is taken and run with by Chariot, in which a Princess must cart around the casket of her deceased father, the King, and find him a proper sepulcher to rest in.
If this sounds a bit morbid, with dead bodies being carried around, there's no need to worry- there is plenty of humor injected into the game in order to keep it lighthearted, such as the King being a talking ghost who is never quite satisfied with his current resting ground. Chariot is appropriate for everyone, we promise.
Chariot is a platformer with a unique twist- you have to manipulate the King's casket, referred to as his chariot, throughout each level to reach to goal. This is a fantastic idea and manages to set Chariot apart from nearly every other platformer you can find. By placing the emphasis on carting the King around, the game requires you to rethink even simple tasks like climbing up a hill or jumping on platforms. And with the simplicity of the control scheme, those simple tasks do begin to feel as easy as normal jumping and running do in other platformers, letting you focus on the difficult tasks at hand.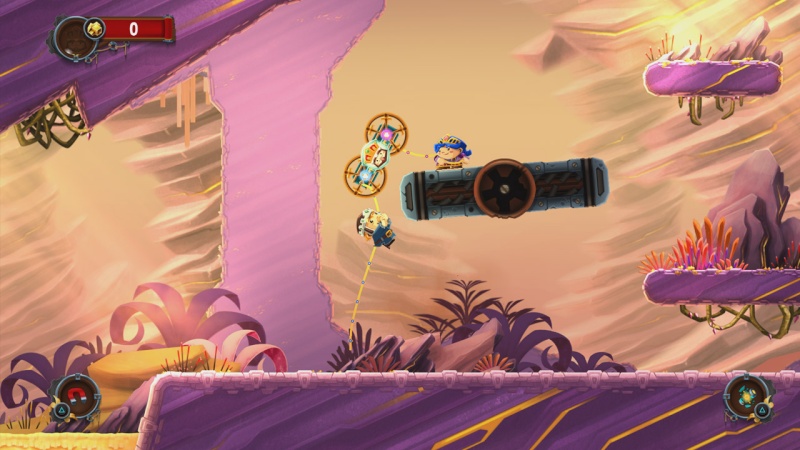 Your main tool will be a Rope, which latches onto either of the two wheels in the Chariot. The rope can be pulled, stretched out and manipulated any way a real rope could, making carting the Chariot around the terrain a simple process. Besides this tool, you have your character to use in different ways, and this comes in forms of riding on top of the chariot, pushing it up hills, slowing it down, and more.
Throughout levels you will also want to pick up as much treasure as possible, which is magnetized and attracted to the Chariot, forcing you to literally push the King around to find Gold. This works very well, and sometimes it will be placed in a challenging spot like in the ceiling or next to a nest of Looters, the in game enemies. Looters will swarm your Chariot if it makes too loud of a noise, from hitting a wall or dislodging a large treasure, and you can repel them with the X button. They are slightly unnecessary, as they break the flow of stages too often, but that seems to have been the point of including them. Honestly, they feel a little tacked on, as the game is fine without them and they seem to try and offer challenge, but only end up offering annoyance.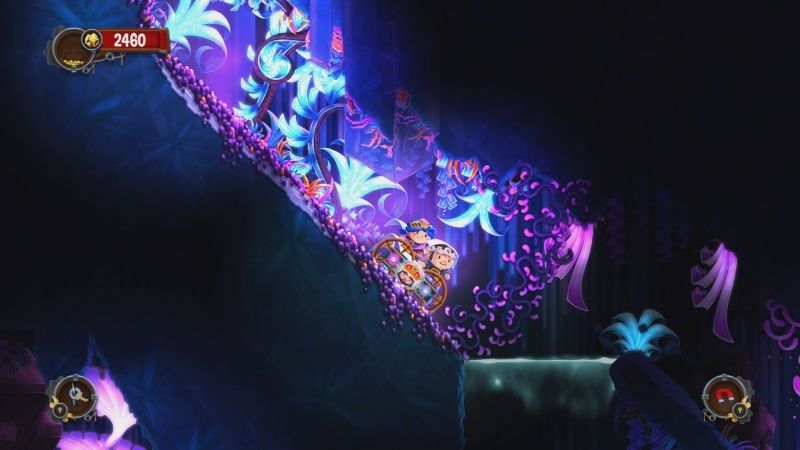 Chariot is wonderful as a single player game, with the main quest offering plenty of levels, unlockables, powerups (including a handy tether to hold your Chariot in place) and hidden paths to unlock new sections of levels. But the game truly shines in multiplayer, which is local only in this case.
You and a friend can both control the Chariot at once with your characters- depending on your level of friendship this can either make the process easier or more difficult. Playing the same levels in multiplayer feels like a completely new experience, because it both changes the dynamic of levels and allows you to access a number of two player only challenges.
While the game doesn't let you do everything in single player, Chariot is still an enjoyable experience for one person. However, for two players, Chariot is one of the best games you can find in that it challenges you to work together, and will have players actually forced to speak out loud to plan strategies. The levels are designed to accommodate both styles of play, and for this, Firma Studios should be commended.
Chariot is a blast as both a single and local multiplayer experience. Carting around a Chariot of a Gold obsessed dead King is surprisingly a great way for the title to distinguish itself from the hundreds of other platformers available, and Firma Studios maximizes the potential for every level to be long and fun. If you and a friend are looking for a game to beat together, Chariot is without a doubt deserving of consideration. In fact, Chariot is worth playing for single player alone, which isn't even its main focus. It is a delightful and well done platformer that is deserving of the attention of everyone who simply enjoys a good time.
Review copy provided by: Firma Studios