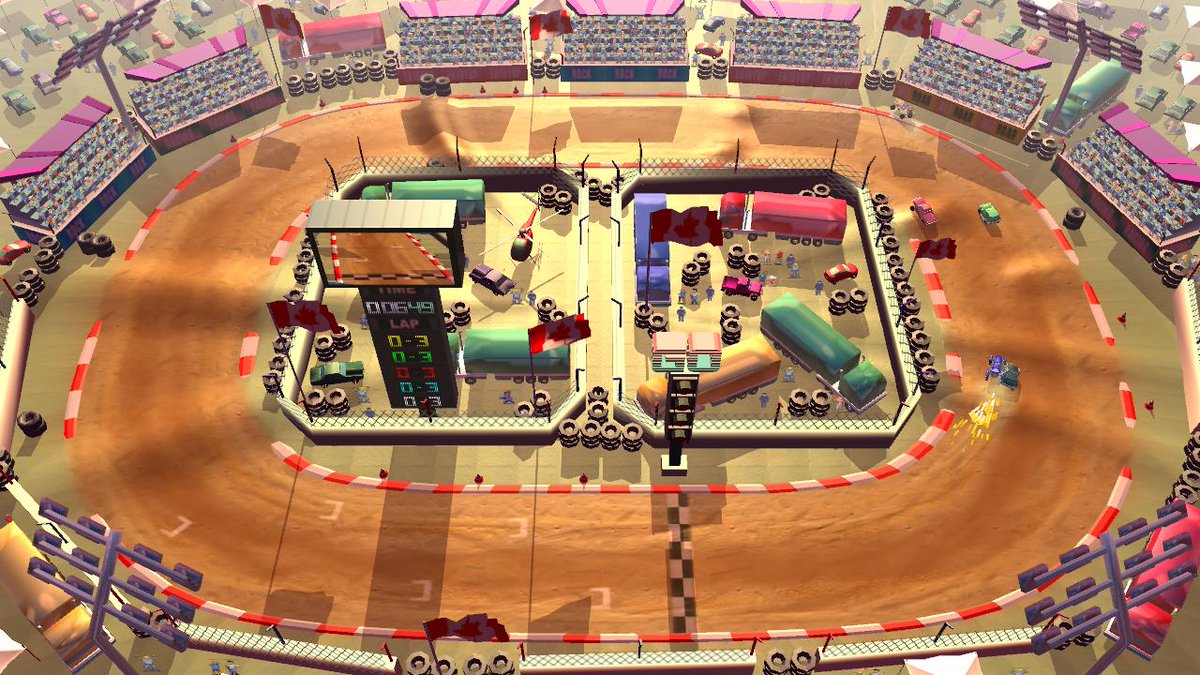 Racing games have been a prolific genre in the ever changing world of video games since the beginning of arcade machines. While racing titles have been ever present, there have been many different takes on them, one of which was Ivan 'Ironman' Stewart's Super Off Road for the NES, the title which Rock 'N Racing Off Road is heavily inspired by. Unfortunately the modern day take on top down racing doesn't live up to the nostalgia of its inspiration due to some bad design choices and overall simplicity as well as lack of content.
While most recent racing games have been competing for the best and most unique graphics, Rock 'N Racing Off Road decided to go with the simple route of a cartoony presentation mixed with realistic settings. While this setup isn't by any means bad, it falls neatly into the average category, as it does nothing to help the game stand out. In addition, the simplistic cars and backdrops are good enough to pass inspection, but won't be winning any awards either.
Rock 'N Racing Off Road pits you against a handful of other CPU racers in a Campaign mode, which is comprised of multiple cups with four courses in each. While each cup technically has its own courses, they are really just the same four designs repeated over and over again with different turns and bumps to drive over.
Driving is fairly simple, but unfortunately it doesn't always work as you would think. You can drive forward or in reverse, and turn left or right. While this sounds impossible to mess up, Rock 'N Racing Off Road takes its best shot at doing so. Driving is a bit slower than you would expect, with very wide turns and floaty handling on each car. Going over any bump in the road is probably going to send you flying through the air as well.
Oftentimes due to these odd controling issues, you'll find yourself hitting a wall. These walls are anything but normal however, as they hold onto your vehicle with an odd magnetic-like attraction that makes it difficult to break away from. Hitting a wall requires you to fully stop, go in reverse, stop, then drive forward and hopefully away from the wall. This wouldn't be a game-breaking issue normally, but here the time required to do this maneuver is at least ten seconds, usually more. Falling behind this far is basically the same as losing since the races are so short, and it is near-impossible to never hit the walls. This design decision is baffling, because without these weird walls Rock 'N Racing Off Road would have been an enjoyable game; instead it gets frustrating and rage-inducing very quickly.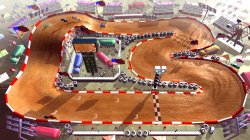 Beyond the Campaign, you can race with up to five people locally in the unlocked courses, which often ends in everybody ramming into everything and moving very slowly. While not a typical racing experience, being stuck in the same position with friends makes it more bearable and enjoyable. You can also compete in a Time Trial mode, complete with online leaderboards, though you need a perfect run to even get a good time.
Rock 'N Racing Off Road could have been a great little racing game, if not for the odd vehicle handling and lack of unique content. Unfortunately for EnjoyUp Games, there are so many other racers available that these issues are critical to Rock 'N Racing Off Road's success. As it stands, this racing game has great inspirations as well as intentions, but is stuck in the back of the pack due to its self-imposed limitations.
Review Copy provided by: EnjoyUp Games