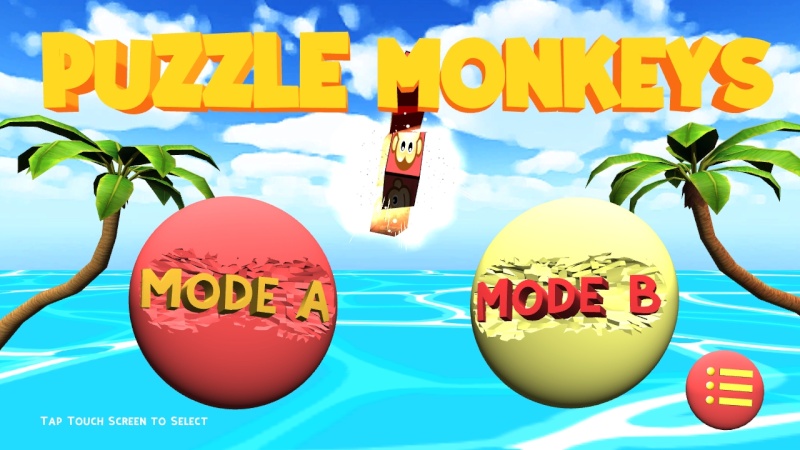 Looks can be deceiving, and Puzzle Monkeys by Log Games is a prime example of this phenomenon. What appears at first sight to be an early 2000's flash game is actually a pretty darn fun puzzle game. By drawing inspiration from a handful of old-time puzzlers, as well as incorporating new ideas, Puzzle Monkeys is one book that you can't judge by its cover.
As any classic puzzle game would have done, Puzzle Monkeys offers two different modes, simply titled Mode A and Mode B. The former is a combination of Tetris and Doctor Mario, in which you aim to eliminate preset Monkey Blocks from the base of the 2D playing field. Blocks come in four varieties, blue, yellow, red and green, and by connecting any three Blocks of the same color in a line (even diagonally) it removes them from play. The name of the game is to remove each Monkey Block from play to clear the level.
If this sounds a bit common for a puzzle game, its because it is. At least, until Log Games' throws some of their unique tricks at you. For one thing, blocks fall in a group of four random blocks stuck together. Pressing A rotates these blocks 90 degrees, and you need to position and drop them into place with the D-Pad. Any time before the Blocks are settled on the ground you can hit one of the four large colored buttons along the edge of the screen, this removes any block of that color from the current set of four Blocks.
Removing colored Blocks adds a deep layer of strategy, as it allows for you to actually position the clunky four piece blocks into place. The actions of doing all of this moving, tapping and planning out how to win are surprisingly a multitasking joy, and it constantly keeps you on your toes. The relatively quick movement of the Blocks also adds a layer of urgency, much like positioning your blocks in Tetris, but with more constraints. The key here is that Puzzle Monkeys adds more to think about, but is still manageable, and after a quick time playing you'll likely find yourself breezing through the gameplay.
Thankfully there are multiple speeds and levels to keep you occupied, as well as Mode B. This game mode is much different from Mode A, and has you using the Gamepad screen only. You still have your usual selection of Monkey Blocks lined up across the bottom, but this time colored Blocks appear one at a time across the top, moving right to left. Blocks appear randomly, and will continue to move left until they hit the far wall, and every block will fall down onto the field below.
You can choose to send the blocks down earlier however by pressing one of the same four colored buttons as from Mode A. As with the Mode, each button press removes all blocks of that color, and drops all of the rest down. This results in mass chaos as you try to balance the height of the blocks with removing Monkey Blocks to progress. Focus too long on one section, and its game over as the other side of the screen becomes hopelessly cluttered.
Mode B tends to be more stressful and difficult than Mode A, and while both are fun to play Mode A is truly where Puzzle Monkeys shines. Unfortunately you have to put up with some of the most bizarre art we've experienced in a puzzle game to play it. The blocks and backgrounds are an odd mix of 2D and 3D art that clashes rather than gels together. Backgrounds are really just stock photos ranging from cartoony water to a realisitc seaside cabin. For a game about Monkeys, the tropical beach theme doesn't really seem to fit well.
When playing on the beach, you're treated to three unique music tracks, presented much like the original Tetris. Tracks 1 and 2 are both good, decent background music, but Track 3 is a surprisingly solid synthetic song which works well to match with the sense of urgency Puzzle Monkeys provides. While these don't necessarily gel well with the beach, or Monkeys, they fit the purpose of providing nice background noise, and players shouldn't have issue finding a track they enjoy.
Puzzle Monkeys is a prime example of a fun gameplay element held back by mediocre visuals. Gameplay Modes A and B are both enjoyable for a few hours of High Score chasing fun, with online leaderboards offering more incentive to keep playing, but players might be so off put by the graphics that they pass this puzzle game up. For a small puzzle game, Log Games' title of Puzzle Monkeys certainly provides a fun time, but one that is held back by its poor presentation and lack of polish.
Review Copy provided by: Log Games