Over 30 years ago, games like Super Destronaut were as complex as you could get. Arcades were filled with games such as Space Invaders, which truly paved the way for modern videogaming. While simplistic on first sight these titles were and remain enjoyable for many to this day, and Super Destronaut from Petite Games is clearly designed to pay tribute to these classics.
If you've ever played Space Invaders you know what to expect from Super Destronaut's gameplay. You control a ship along the bottom of the screen as rows of enemies approach from above. By pressing A you shoot lasers at the enemies, some of which take multiple shots before falling. Movement is limited to side to side only, and is controlled with the control stick.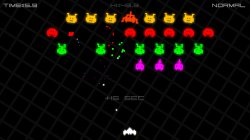 Classic Mode has you moving through multiple waves of enemies in an attempt to crack your previous High Score. Taking only a few hits from enemy ships kills you, and as the difficulty ramps up a decent deal of skill is needed to clear out the opposing ships.
For those of us unsatisfied with only one mode, Super Destronaut offers two more to keep you occupied. Time Attack gives you one minute to destroy as many enemies as possible. Clearing a screen of baddies grants you an additional 15 seconds, but taking a hit deducts the same amount of time.
Multiplayer Mode is limited to one other friend using a Wii U Pro Controller, and you both working to get as high of a score as possible in 3 minutes. While not a mode most people would focus on, it is a nice addition for those looking to include a friend.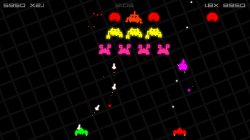 Super Destronaut has a multitude of modes, but after a while they all begin to give off the same vibe of repetition. Arcade machines thrived in part because of limited access to them; Super Destronaut also excells as a quick pick-up title as opposed to marathon gaming sessions. As such, this title would be an excellent fit for 3DS, but on a home console it struggles a bit.
Regardless of its longevity, Super Destronaut is a blast to play. Clearly influenced by Space Invaders and other arcade games of years past, Petite Games brings a budget version to the Wii U eShop that is accessible to everyone. While simplistic in design, it hits the nail on the head in terms of gameplay, though how long lived the enjoyment is depends largely on how big of a fan of classic arcade games you are.
Review Copy provided by: Petite Games