Better off with real Paper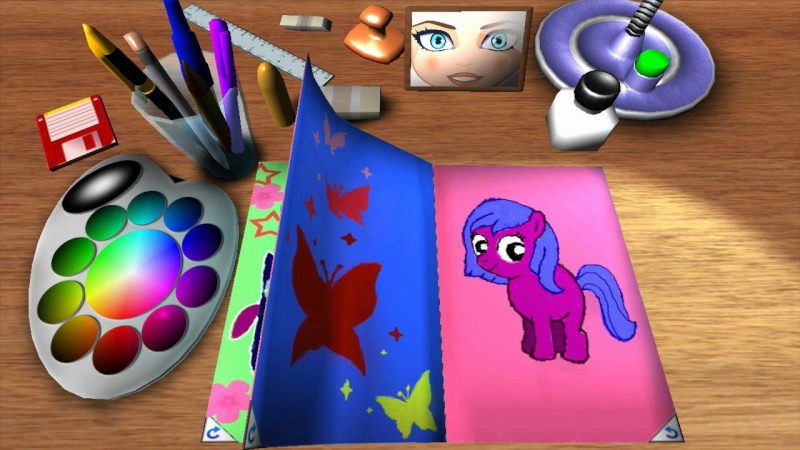 My Style Studio: Notebook is more of an app for the Wii U than a game, as it lets you draw in a virtual book. While not the most thrilling of eShop releases, it attempts to fill a small gap of opportunity for users looking to draw on their Wii U system. Unfortunately this isn't really a gap that needs to be filled, and as such My Style Studio: Notebook has stiff competition to face.
The interface in this game is one of the most questionable we've ever encountered; while attempting to look realistic the game actually becomes increasingly frustrating. The whole point of an art app should be to make things simple and enjoyable, not confusing and unintuitive. The app just drops you right into the drawing studio, if you could call it a studio. By clicking on things you can interact with them to use them, usually.
Picking a page to draw on in the book should not be one of the biggest problems, but without instruction players will likely spend a while flipping through pages unable to draw on them. The lack of tutorials in game and in the manual is even more frustrating once you realize you actually need them in a simple art app.
Once you get to a page and begin to draw, the results are underwhelming. There is a very limited number of tools to choose from, and you can't even zoom in to draw more accurately (arguably one of the main reasons to choose digital art over the real thing). You'd have more control and options if drawing on a real piece of paper, unfortunately, which means all that time spent going through menus is wasted.
This title should be avoided unless you've run out of other possible apps to use for your purposes. The main demographic, young children, would most likely leave in confusion as they can't figure out how to draw in the art book, or once they do, become disappointed in the actual interface. My Style Studio: Notebook is an app that serves no real purpose, as there are plenty of other drawing apps available on the Wii U eShop, and is too simplistic and confusing to use enjoyably.
Review Copy provided by: Cypronia