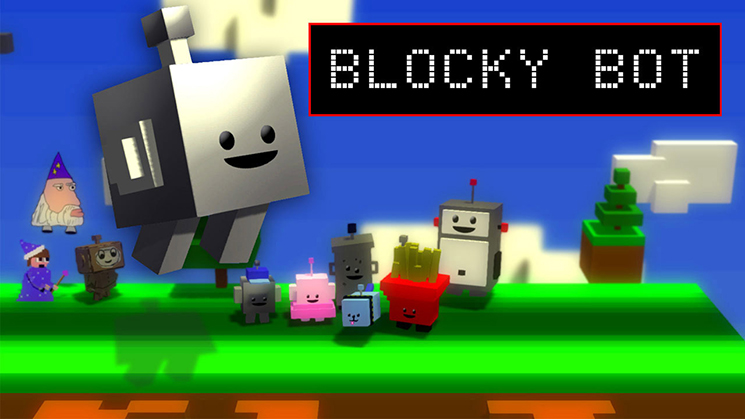 Many classic arcade titles prospered because of their simple yet rewarding gameplay mechanics, the likes of which has once again become increasingly popular in recent years. Combining a mix of old and new, Mobot Studios created Blocky Bot, a vertical scrolling infinite platformer. While this title is created in modern gaming society it has a heaping dose of retro mixed in, but does this help Blocky Bot to succeed or cause its downfall?
Dropping you right into the gameplay from the menu itself, the game has you guide Blocky Bot through a series of horizontal platforms stacked at an angle. It is almost like climbing a set of stairs created out of floating platforms, which head into the screen, and it can be slightly disorienting at first. Regardless it becomes fairly simple after a while, much like a vertical version of Frogger meets Ice Climbers.
Just like with these titles, Blocky Bot sends enemies out to attack you and insta-kill you on impact. On nearly every platform there is an enemy crossing side to side which you need to avoid, the only way to do so is to jump to the next platform. Moving side to side is also an option but you would simply end up cornered and forced to jump anyway.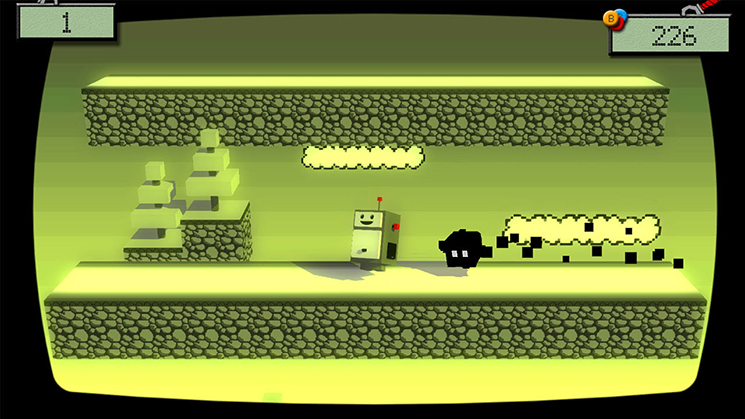 This works to keep the pace in Blocky Bot quick, while adding an element of tension. Oftentimes you are forced to jump immediately after landing to avoid death, meaning quick thinking and reflexes go a long way in Blocky Bot.
Through your attempts to reach a new high score, you'll end up picking up Bits and Bytes, the in-game currency. Taking a cue from modern titles such as Crossy Road, 100 Bits and Bytes unlocks a new character to use. The number of playable characters is quite large, meaning it will take a long time to unlock each and every one of them.
Additionally stages will unlock to offer up changes in visual style, such as a classic Game Boy inspired stage which coats the world in green. These options are good for keeping gameplay fresh, and they all fit quite nicely with the graphics. While Blocky Bot may indeed appear Blocky, so does everything else in the game, and the polygonal graphics surprisingly feel fresh and fit the themes and characters well.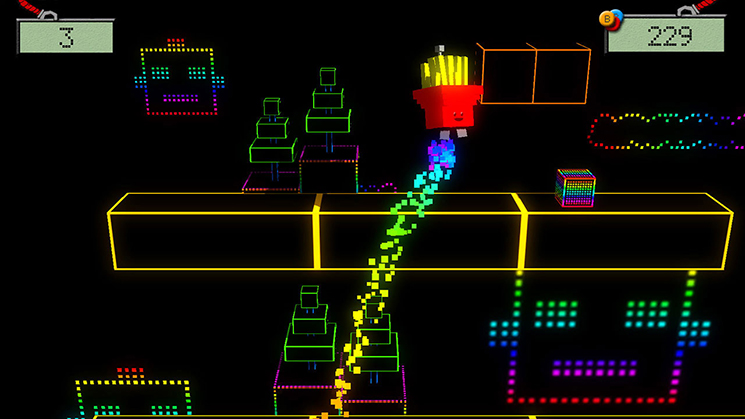 As you move up through the platforms the music on hand subtly shifts through its playlist, which is very refreshing. Not only does the music shift smoothly, but it is also a nice indicator as to how far you are in the level as it changes at set scores. While it isn't the best music around this setup keeps it fresh, useful for gameplay and enjoyable.
Blocky Bot is a simple game, one which offers a fun time with a mix of old and new. Chasing down high scores is enjoyable as ever, though it should be said that for those who are looking for more to do can find it as well here. Unlockable characters and stages round out this nice looking package, and the low price is the cherry on top. Blocky Bot isn't for everyone, but for someone looking for an enjoyable high score chaser, it fits the bill just fine.
Review Copy provided by: Mobot Studios