We recently had the chance to sit down and chat with Michael Aschenbrenner, the sole member of RCMADIAX, and developer of BLOK DROP U for the Wii U eShop.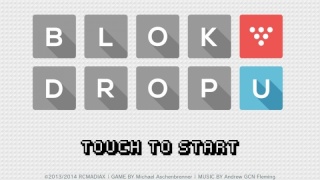 8BF: Firstly, Is there anything you'd like to say to introduce yourself to the readers?
MA: My name is Michael Aschenbrenner, and I am the one-man development studio known as RCMADIAX. My label was created in Fall 2013 to focus on creating unique experiences for Wii U and other interactive gaming systems. I was born and raised in Pittsburgh, PA where I currently live. Game development is just a hobby right now and I currently have full-time employment outside of creating games.
8BF: How was working on a Nintendo console developing an eShop game? Did you find Nintendo to be as helpful as some developers have stressed?
MA: Yes, Nintendo is very helpful. They understand that many of us have never created games and have tools in place to help no matter what your experience level is.
8BF: What inspired you to decide to open your own development studio, and as a single developer at that?
MA:For me it has just been for fun right now. I am expecting it to turn into full-time employment for me by 2016. I am going on it by myself as I don't really work well with other, hehe!
8BF: Are there any significant pros or cons to being a single developer which make you wish you had / glad you don't have a development team around you?
MA: Pro: You get to keep all the proceeds to yourself and get to create the games you want. Cons: You have to tackle all aspects my yourself, and if you don't have a particular skill then outsourcing it is best but often expensive.
8BF: How has developing with the HTML 5 framework affected your work, and are you glad it is now a viable option for the Wii U eShop?
MA: I wouldn't be developing games for Wii U if it weren't for the Web Framework. Currently, I am using a game engine called Construct 2, which relies on HTML5 technology to run on Wii U.
8BF: What other games does RCMADIAX have up next for eager fans?
MA: I am currently hard at work on SUPER ROBO MOUSE, and have a few concepts lined up for 2015 and beyond.
8BF: Moving to BLOK DROP U, how will DLC affect the overall package? Can you go into any detail on updates or what new levels will feature?
MA: New content will be delivered FREE to current and future owners of the game. Plans on how that content will be distributed have not been finalized.
8BF: How satisfied are you with the final form of BLOK DROP U, and its reception?
MA: There were a few key items that I wasn't able to get into the product at launch due to budget and time constraints, but they have already been taken care up with the upcoming update that will be published for the title.
8BF: What were some games or developers from your past which have inspired you to decide to create games?
MA: Nintendo as a whole inspired me, but watching the movie INDIE GAME really inspired me to pursue it further.
8BF: If you could be anyone else, who would you be?
MA: I like being me, hehe.
8BF: If you could only have one super power, and it could be anything you
can imagine, what would it be?
MA: To become invisible so I can spy on Nintendo's headquaters and see what their up to, hehe!
8BF: Say you have to design a game starring yourself, what would the game be about and who would the villian be?
MA: Definately a platformer-style game. Not sure who the villian would be...
Thanks to Michael for his time, and best of luck with your future games!