A Newly Designed Animal Crossing Title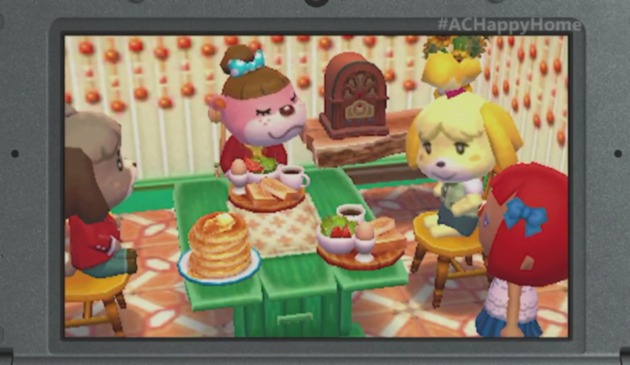 Announced during Nintendo's April 1st Direct, Animal Crossing: Happy Home Designer (HHD) is the first game in the Animal Crossing series to release in nearly three years. While it may seem more recently, Animal Crossing New Leaf released in late 2012 in Japan, while in the West we were able to purchase it in Summer 2013. The wait for Japan has been longer than for the rest of the world, and while this is not a typical Animal Crossing game, it is shaping up to be just as fun as any other title.
The key behind Animal Crossing: HHD is giving the player even more control over their surroundings than ever before. In New Leaf the Villager was placed in charge of the town, as the Mayor. This greatly expanded the available roles, but HHD takes this to another level. By working directly for Tom Nook, the empire building Tanooki who runs shop in previous titles, you team up with Lyle and his niece Lottie to plan town layouts.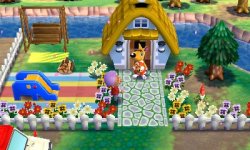 By use of collectable Amiibo cards, you can scan a villager directly into HHD. Upon entering your world, the animal will request your help to set up a home for them, including its location, interior and exterior design. First you need to decide where to put the house- it can go nearly anywhere on the map, from a small island, to the beach, right on the edge of a river (with a neat bridge crossing path to get to their door) and almost anywhere physically possible. The variety of locations really gives you control to place each villager in a fun area much different from the random plots of land they would move into in previous titles.
Next the Villager will request a theme for their home's interior design. Shown themes include music oriented, and will likely cover the different types of furniture based on their differing tastes. The home will come with a few included items, usually one or two, that the animal really wants- but beyond that everything is up to you.
Items can be created, placed, moved, rotated and deleted all with the touch screen this time, making it the most streamlined process yet. You order furniture from a catalogue along the top of the bottom screen, which comes with different tabs for different types of items. Most important is a recommended tab, for items the villager is sure to enjoy having.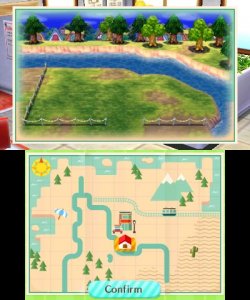 Placing and moving items simply requires dragging and dropping them with the stylus, and a quick tap rotates them. If you don't want an item, simply drop it into the trash can in the bottom-left corner. Adding other necessities like flooring and wallpaper is as simple as tapping the design you want to see, and it instantly covers the corresponding area.
The amount of detail you put into decorating is up to you, and likely to determine how much enjoyment you receive from this title. For the decorative of us out there, this is by far the best way to decorate in an Animal Crossing game yet. If you prefer the other aspects of Animal Crossing however, like fishing, bug catching or digging up fossils, you appear to be left out this time around. While HHD expands on certain areas of the series, it also omits many others making this title one that isn't for every fan.
Thankfully if you dislike interior design, you also have the ability to remodel the yard of each house as well. Designing outside works exactly like inside, but with different touches- in place of wallpaper and flooring come items like trees. Designing the outside looks just as engrossing as the interior, and is vital to making your town look absolutely perfect.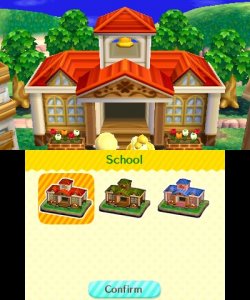 When you finish a Villager's home, you can also come back to visit them- and you can bring friends as well. By scanning other Amiibo cards you can bring them all together under one roof for a chat, party, or general get-together. Chatting with neighbors looks like fun, while not a main selling point of the game, but it allows you to get to know your villagers a bit better.
Outside of your town is a separate area, the one in which you work. It functions like the city in City Folk or the section above the railroad in New Leaf. Since you aren't shopping however, the villagers are. As you create more houses, more buildings unlock, and the villagers inhabit the small city section as well. They will go through and do activities such as shopping, going to school and more. Buildings in this section can also be decorated by you, so if you want a school with a giant flat screen TV, go for it.
Animal Crossing: Happy Home Designer also features a significant number of upgrades over the other titles. For one, you can squeeze in-between furniture and villagers standing too close together with an adorable sideways shuffle animation. There are also plenty of brand new items, and different options with them, such as the option of small, medium or large rugs to place on the flooring.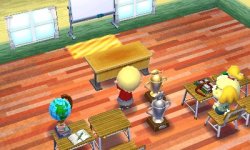 The amiibo cards also play an important role, as they can be scanned directly into the game to request certain villagers. Amiibo cards will work directly with the New 3DS system, but also with a supported Amiibo reader platform set to launch alongside the game. This seems to be required to play this title, so keep that in mind if you are interested in playing on a regular 3DS system.
Animal Crossing: Happy Home Designer is a departure from the series norm, but greatly builds on the features it decides to focus on. Designing is easier and more fun than ever, interaction with Villagers is more personalized and you don't even have to worry about paying off a debt to Tom Nook! In a more friendly approach to an already friendly game, Nintendo is providing a game fit for anyone who wasn't satisfied with the amount of power given in New Leaf- and who doesn't want more control?