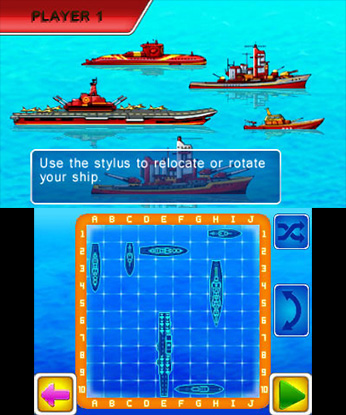 Battleship is a game that is nearly 50 years old and has remained a staple among board games for decades. Navy Commander brings the thrilling two player guessing game to the 3DS eShop in hopes of creating a portable version to play on the go. While lacking any physical pieces is the intent, it is also the downfall of this title, as it lacks the original charm of the actual board game.
In premise, Battleship is a simple game to play, Two sides are at war with each other, and anchor their fleet on a grid in preparation for battle. By taking turns launching missles, opponents attempt to seek and destroy the opposing fleet. The challenge comes in when the players cannot see the enemy ships, they only know if they hit or missed a ship.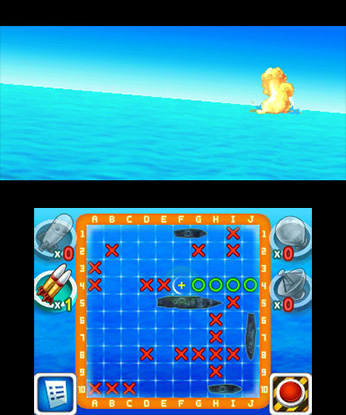 Navy Commander handles this gameplay well, and even offers up digital enhancements including optional animations of attacks. Everything is displayed crisp and cleanly, with the grid on the bottom screen and your ships bobbing in the waves on the top screen. Everything is controlled on the touch screen, but visuals take use of the 3D effect for launching missles and sinking ships.
In addition to the classic battleship formula, Navy Commander offers up four items to use in war. A giant missle strikes in a + shape, hitting multiple spaces at once. A double missle allows for two attacks in one turn, though the radar allows for four random missed attacks to help you locate empty spots. The final power-up reveals the secrets hidden in a 3x3 grid of your choosing, from potential hits to misses and even treasure chests. These sunken chests are randomly placed throughout the map and reward you with more power-ups to turn the tide of battle.
Things begin to capsize a bit when Navy Commander plays out though, as unless on the smaller map sizes and battleship numbers, the game takes a long time to play out. CPUs are quick, but seem to either always miss or always hit you based on their set difficulty. It is difficult to strike a medium here.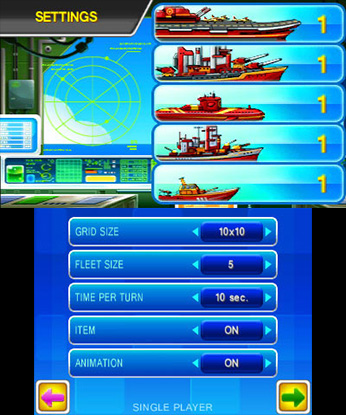 Playing with others is an option through both Download Play as well as having two players on one system. Everything here works wonderfully, besides the fact that it takes so long to complete battles. A major selling point of Navy Commander could have been quick battles, but due to the scope of the title it is sometimes faster to set up an actual gane of Battleship.
If players opt for the smaller map sizes and ship numbers, they'll have a grand time blasting each other away in this title. The price may be a little steep but the game itself is quality, and costs less than the actual board game version. Ultimately your love of Battleship will determine how much enjoyment you get out of this game, but as far as nailing a fun game goes, Navy Commander has more hits than misses on the battlefield.
Reivew Copy provided by: BIGBEN Interactive