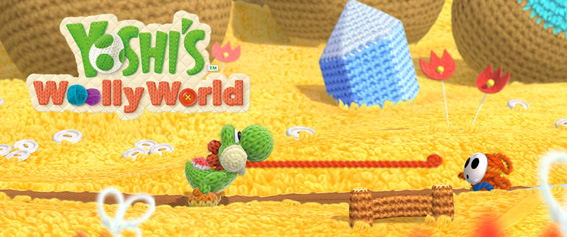 Yesterday during Nintendo's digital event, the big N revealed fresh information and details about a previously announced yarn Yoshi game for the Wii U. The game, now titled "Yoshi's Woolly World," takes place in a world made entirely of cloth, fluff, and other craft supplies, much like the Wii title Kirby's Epic Yarn.
Woolly World will play similarly to a standard Yoshi's Island game, but with a few distinct differences. For starters, Yoshi is made of yarn. This means that Yoshi will be able to change his shape more easily as well as lasso pesky enemies with a well-thrown ball of yarn. Another key difference is the fact Baby Mario does not appear to be present. That means that Yoshi's eardrums can breathe a sigh of relief as he basks in the glow of the fact that he is truly the star of this show. When I say that Yoshi is the star of the show, I don't mean that he's alone. Woolly World will allow for a second player to join in the game as a red Yoshi. Together, players will be able to explore and progress in new ways.  
Woolly World also benefits from the HD power of the Wii U. The textures and look of the yarn and cloth look simply gorgeous. Take a look in this E3 trailer.
The game is currently slated as being released at some point in 2015. So, is this a game worth getting wound-up for, or is just a bunch of fluff? Sound-off in the comments!