Getting Into the Swing of Things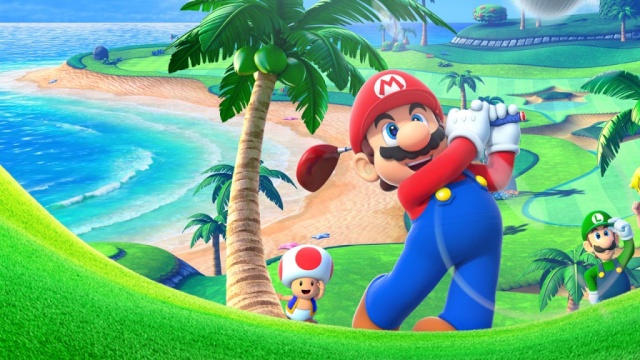 Nintendo managed to hit the sweet spot with Mario Golf World Tour, combining an enjoyable single player experience with a competitive online mode to satisfy the best of us. The online mode, including communities and tournaments which can be created by players or Nintendo themselves, seems simple enough at first glance. However, there are a number of tips and tricks to use in order to succeed and pull out the win. That being said, let's dive right in to some competitive tips and tricks which will give you the edge online.
    First, a general understanding of the Power Shot are in order. By using a Power Shot, you can obviously hit the ball further, but it is seemingly limited to 6 strokes max. This however, is not the case. Any time you hit a Power Shot exactly at the power you set, as well as the accuracy bar on the right, you will get what is essentially a free Power Shot. This is extremelly useful in online play, and can be the difference between victory and defeat. If you need to use a Power Shot at less than max power, actually adjust the power using L/R in order to attempt a free shot.
    Another important feature is the Backspin and the Topspin. Using these (by pressing BB or AA, respectively) allows you to spin the ball upon landing. This does not affect the distance a ball travels in the air, so it is crucial to success. There is also the all important AB for a Super Topspin, as the name applies sending the ball further, as well as BA for a Super Backspin. It may seem tempting to use the Super versions, but be careful as they travel very far on the putting greens. As a rule of thumb, using the regular spins on a putting green or for an approach is key, and restricting the superior versions for fairways is usually best. However, if a strong wind is blowing and you need to hit the green, a Super spin may be best, as it is situational and comes with practice. Top and Backspins are important to success, and mastering them will greatly affect your score.
    Other tips include hitting the ball into the rough with a Super Topspin on occasion. This may seem like a bad idea, except that the spin will most likely roll the ball out and onto the fairway, or even the green. When you approach the putting green, try aiming a little behind the hold, and use a backspin. This will slow the ball down, as well as roll it towards the hole. This prevents you from hitting the ball too far if you miss, and gives you a greater chance of sinking the ball. If it is raining, the ball will require more power to move the same distance, and the in game shot prediction distance does not account for this. Generally shoot a little bit more powerfully than you feel is needed to account for this.
    And finally, pay close attention to the shots you are taking! This may seem like a fairly obvious step, but with the ability to hold R and speed through the game, you will also involuntarily speed up your shots as well. Don't do this! Look at every shot before you shoot, and go through the wind, landing spot and where the ball could roll before you shoot. If you are unhappy, you can always move it before you shoot. By moving slowly through the game, and not holding R, you will have more time to think your shots through, as well as read the slopes and more while you're at it. 
    Mario Golf World Tour is a compliacted game, because no matter how well you understand the gameplay a perfect run of a course is impossible, as there is always a way to improve. We hope that by implementing these techniques and practicing more, that your score will decrease as well (which is a good thing in golf). There are our tips and tricks to success to help you along in Mario Golf World Tour, and let us know if there any any tips we've missed!