Community: Finding the Best Mario Kart | Round 3
Mario Kart DS vs Wii
In the third round of our Mario Kart contest, two more versions of the popular series will compete for your votes. The winning game will progress to the semi finals, where it could fact our Round 1 winner, Mario Kart 64, or our Round 2 winner of Double Dash!! Our last poll was a runaway victory for the 64 version of Mario Kart- it won in a whopping 40-11 vote turnout.
This time however, both versions of Mario Kart offer something never before seen in the series- a new way to play multiplayer. The addition of WiFi really set Mario Kart DS apart from 64 in many ways, some good and some bad. For one thing, it allowed up to four players to race online at once over WiFi connection, elongating the experience by a wide margin. In contrast, the online was extremely frustrating due to limitations, disconnections and the sneaky technique known as Snaking, in which drivers gain a speed boost so large they could become unbeatable for some.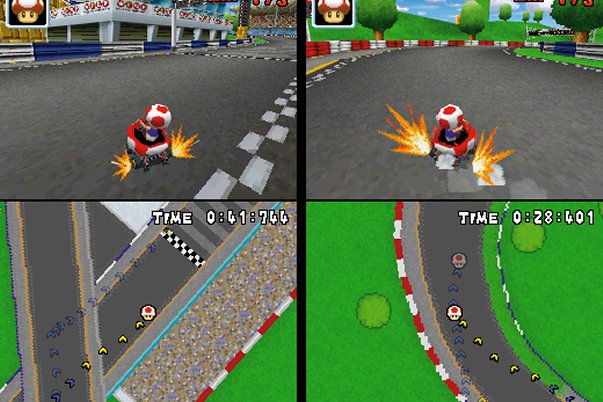 In the single player department, Mario Kart DS stepped up its game moreso than any other release has to date. Most noticeably, it brought the course total to a whopping 32 tracks, 16 new and 16 retro courses. This number of tracks has been carried over to every version since its beginning. Another addition was a Mission Mode, which was unique to Mario Kart DS. In this mode, players could drive thorugh well over 50 levels to fulfil objectives such as beating a large Goomba to the finish of Baby Park, or knocking an enemy off the stage without losing yourself. In all, Mario Kart DS brought a lot to the table, though everything it brought wasn't perfect.
Following Mario Kart DS's success, Nintendo brought the series back to home consoles, and Mario Kart Wii was born. But rather than merely creating another Mario Kart game, Nintendo brought something innovative to the table- the wii remote. With motion control steering, Mario Kart Wii was was possibly the most innovative game in the series, and as such opened the doors to people of all ages (resulting in 34 million sales of the game).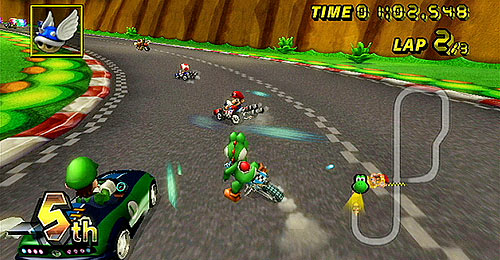 Besides the motion controls, the Online itself was updated to be more of a streamlined and large experience, and the inclusion of Mario Kart Channel further extended the experience. As for single player, more karts and characters were included, with an all time high of 12 racers hitting the tracks. With the inclusion of Tricks and the refining of Turbos, Mario Kart Wii was one time the series stood still and refined all the kinks of the previous game, whether this sets it as better than Mario Kart DS or simply as a rip off of the portable karting action is for you to decide.
Let us know how you voted in the comments below, and why your choice is your preferred version of the series.