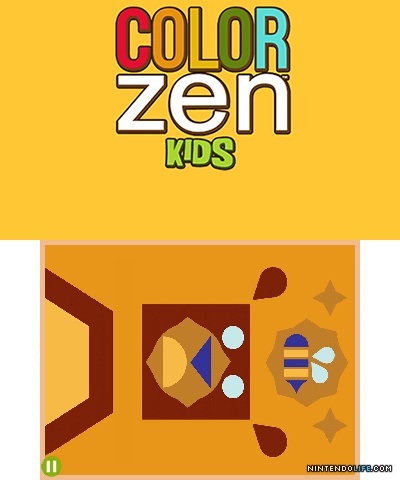 Color Zen Kids is a simpler version of a game which has enjoyed a profitable and successful run on iOS and Android devices, and finally graces the Nintendo 3DS eShop with its presence. Its claim to fame is one of offering a simple, child-lile puzzle experience in a Zen-like atmosphere; and with plenty of levels and no time limits, Color Zen excels at reaching its objective.
The game is simple in concept, and remains so in its execution; devoted to engaging simplicity. Each level provides you with a minimalist piece of shapes designed to appear as a common animal, and the abstract art is simply gorgeous. In order to view the geometric art you have to hold your 3DS sideways, and although it is not explained in game most will manage to figure this small detail out on their own. You are tasked with removing every color from the screen, and eventually turning the whole screen into the same color as the border by mixing and matching colors together.
The gameplay is as simple as the execution; simple enough to be engaging for kids, yet entertaining enough to satisfy adults as well. While the gameplay is designed to be simple, the game is still very short, and can be fully beaten in under an hour. There's little reason to replay the game, except to go through the 100 or so levels again, and you'll likely be feeling cheated out of content; after all Color Zen is the same price but over four times the content. That said, Color Zen Kids is more like an expansion pack, or DLC, for Color Zen. It's there for those seeking more ad not put off by the price, but won't last as long as the main game did.
For fans of the original Color Zen, know that Color Zen Kids is exactly the same as the main game, and exisits more as a very minor expansion of the main experience. While young children may enjoy this game, the full version is more substantial, offering over four times th number of levels for the same price. If you liked Color Zen, there's no reason you shouldn't enjoy Color Zen Kids, unless you can't handle the attatched price tag.
Color Zen Kids: 5/10