Cypronia previously released Color Zen on mobile devices, and recieved much praise from puzzle fans and reviewers. This led to the decision to port this unique game, and its sequel of sorts
Color Zen Kids, which felt more like an expansion pack than a main game.
Color Zen, the color puzzle solving roots from which Kids sprouted, is thankfully a wonderfully fun and unique game sure to please any puzzle fan out there.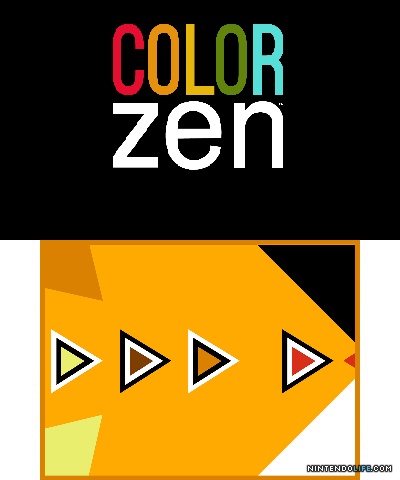 The concept is simple across both 3DS and Wii U versions; combine similar colors together to remove them from the screen. The goal is to be left with only the color specified for the level, indicated by the border color. Add in colors within colors, black and white sporting their own unique effects, as well as the ability to shield certain colors at times, and the game has a lot of depth and strategy involved.
These ideas are spread out across four differing modes, each with 6 chapters of 20 levels (minus the final mode, which has only 5 chapters). This is a whopping 460 levels to enjoy. Each mode also has a certain gimmick involved to liven things up further, including a Reflection mode where the screen is symmetrical on both sides at all times, along with Classic, Serenity and Nature modes, all sporting slightly different art styles.
These modes all control the same, with the stylus dragging shapes and flicking them on the bottom screen. The top screen retains a logo for the game, at all times, which is a bit of a waste for an otherwise great title, but it pays homage to Color Zen's mobile roots.
Other than this, there is nothing else to do in the game. Sure, you can replay all of the levels, but don't expect anything new. This is where Color Zen Kids comes in, to offer a few more levels for the hungering puzzle fan.
Color Zen graces the eShop with its presence, and leaves puzzle fans only wanting more of brilliantly simple puzzle collection. Cypronia clearly has a great game, and for the relatively cheap asking price, you're sure to get a unique and enjoyable puzzle experience.
Review Copy Provided by Cypronia.