Which game was the best? You decide!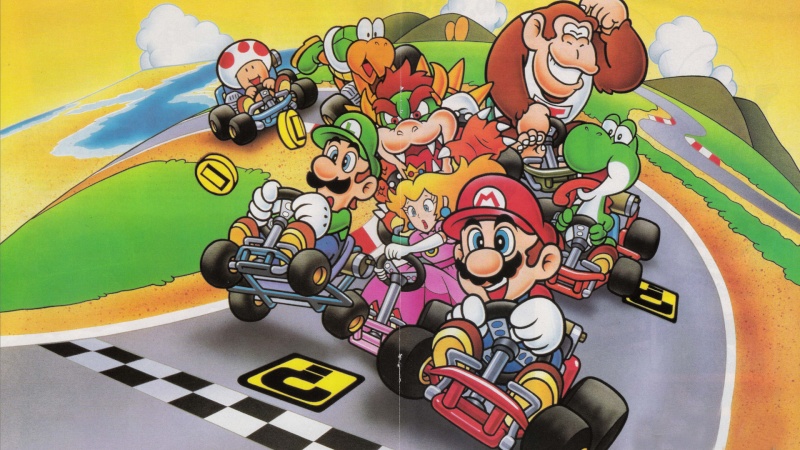 Thinking back on Mario Kart's start, you have to wonder how the series became the hit franchise it is today. The premise of the game was strange at best; with platforming and arcade characters racing around tracks, throwing bananas at each other from boxes on the ground, Mario Kart was certainly an odd idea.
Thankfully for everyone, Nintendo knew what they were doing, and created a hit series which is now almost 25 years old and continues to bring enjoyment to nearly every system they release. While the Game Boy and Virtual Boy lines missed out on Nintendo's take on racing (for fairly obvious reasons, might we add) the series has appeared on every other major system that has been released by the Japanese company, with one game per system, And though every game improved on and tweaked the formula, such as adding two characters per kart, or longer tracks to race on, the series has always been a staple of Nintendo consoles.
With such a successful series comes a plethora of differences in opinion from players over essential questions, such as "Who is the best character? Which game has the best selection of tracks?" And these ultimately boil down to one simply difficult question: "Which is the best Mario Kart game?"
In order to find out which game in the series you all feel is best, we decided to pit the games head to head for your votes in this new feature. That's right, you can help decide which Mario Kart game is the best! We'll go over a few basic points and summarize what each game brought to the table, and then pit them against each other tournament style. The winning games will advance, until only one Mario Kart game is left standing as champion!
To start off, we send the classic Super Mario Kart off to face the likes of Mario Kart 64, the only two games in the series to be released in the Twentietn century. To start off, here's a look at the game that started it all, Super Mario Kart.
Released in 1992, Super Mario Kart brought all the fun of Go-karts and banana peels right into your living room, complete with plumbers, princesses and dinosaurs to add to the mayhem. One feature which makes Super Mario Kart stand out is the Mode 7 Graphics, which provided a very realistic (at the time) feeling of actually racing to the game. Another unique feature is the use of item blocks and coins, both of which lie on the ground and must be run over to be activated. Neither item would reappear throughout the race though, so players had to be careful to not let any go to waste over the course's five laps.
Super Mario Kart also featured a unique life system, where coming in after fourth place resulted in the loss of a life. Lose every life, and your game was over. This along with the infamous 'Rubber band AI', which always seemed able to quickly catch up to you no matter how far behind they were, provided a level of difficulty that remains to be topped by all future releases. Besides the difficulty, unlocking all of the tracks and modes also a decent amount of skill to accomplish, adding to the longevity of the title. Super Mario Kart was responsible for starting the famous spin off series known as Mario Kart, and lead to our next game's development, Mario Kart 64.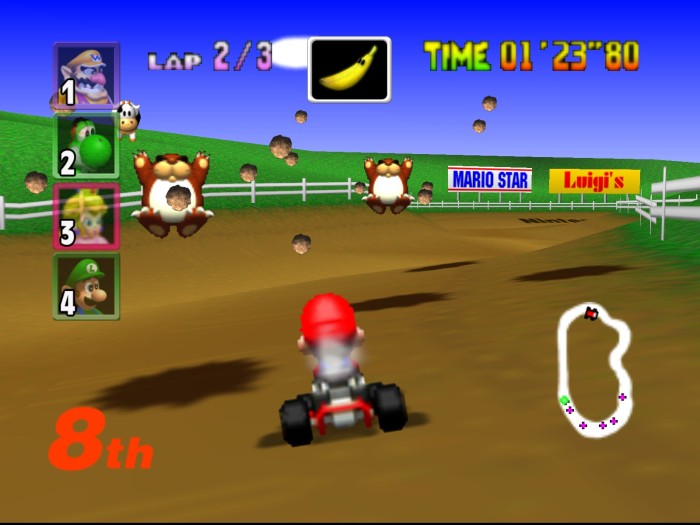 The Nintendo 64 version of the racing series was mostly the same as Super Mario Kart, but with a few key differences. The most noticeable of which is the graphics, sporting a new 3D look on the updated hardware. The Nintendo 64 also allowed noticeable upgrades, like the item boxes being actual floating boxes, as well as moving on course obstacles such as the train in Kalimari Desert.
Mario Kart 64 also stepped up its game by bringing 4 Cups of 4 races each into the mix, for a total of 16 courses, which although less than Super Mario Kart's 20, the courses are longer and more detailed.
There you have it, now its your time to decide: Which Mario Kart game is better? Vote in our poll above, and leave a comment with your say in the matter below!