Everything We Know So Far
Nintendo made a bold and long awaited move with its popular franchises earlier this year, and started offering DLC for series such as Mario Kart and Smash Bros. in unique and new ways (such as amiibo compatibility). With Mario Kart 8 in particular, there has been a lot of information announced pertaining to the game which can be considered DLC, and here we've gathered up all of the information available at this point.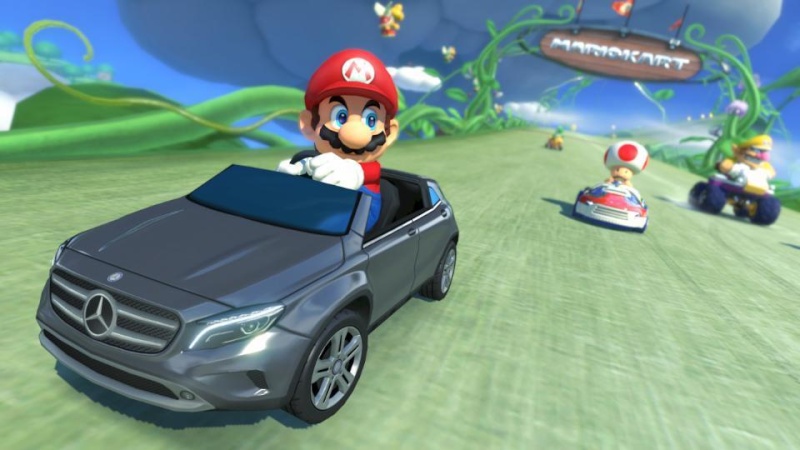 Firstly, Nintendo released a set of free DLC for Mario Kart 8 already, titled Mercedes Benz DLC. While not relatively game changing, the pack gave all racers a free set of three karts to race in, all of which are based off of existing Mercedes cars. The three available karts are the GLA, W 25 Silver Arrow and the 300 SL Roadster. All of these can be downloaded now onto your copy of Mario Kart 8.
Nintendo also announced a set of DLC packs which both provided new Karts, racers and tracks for you to enjoy. Both cost $7.99 each, but can be preordered as one for the discounted price of $11.99, which is roughly $5.99 each. The first pack launches on November 13th, this upcoming Thursday, and will likely be available as the eShop updates at Noon.
Pack 1 is focused heavily on The Legend of Zelda series, and features Link as a new racer to Mario Kart. Link is also sporting his new ride, the Master Cycle, and even brings a new track along based on his series of games. An Excitebike track is also available, which will seemingly randomly generate one of a few series of circuits to race through each time you race on it. Mute City also makes an apperance from the F-Zero series, and Captain Falcon's ride, the Blue Falcon, also joins the remaining karts.
A full list of what is available in Pack 1 is as follows:
Courses:
Egg Cup: GCN Yoshi Circuit, Excitebike Arena, Dragon Driftway, Mute City
Triforce Cup: Wii Wario's Gold Mine, SNES Rainbow Road, Ice Ice Outpost, Hyrule Circuit
New Racers:
Link, Tanooki Mario, Cat Peach
New Karts:
Blue Falcon, B Dasher, Master Cycle, Tanooki Kart
How will this work online, you ask? Well, Nintendo announced that when racing online, you will choose to join a group with the DLC or without. You can also opt to join a group with only half of the DLC, this way you will never be kicked out for not having purchased it.
Around the time of the first round of DLC, amiibo support will be launched, however you don't need to buy the DLC for amiibos to be supported, a nice inclusion on Nintendo's part for those who don't want to buy the DLC but will be getting an amiibo. The amiibos will each unlock a costume for your Miis to wear, almost allowing you to play directly as that character. The result is a unique way of adding amiibos into the game without punishing those who don't have any.
A list of supported amiibos is currently as follows: Mario, Luigi, Peach, Yoshi, Donkey Kong, Link, Captain Falcon, Kirby, Samus Aran and Fox McCloud.
As for the second DLC pace, that one is coming in May 2015, and promises to offer the same amount of content as the original Pack 1 will. This means 8 new courses, 4 new Karts and 3 new racers, again. The confirmed content is slimmer at the time of writing, seeing as it won't be out for half of a year, but the announced content is certainly cause enough to warrant a preorder.
Courses: Animal Crossing Cup & Super Bell Cups
Animal Crossing course, other unnamed courses.
Characters:
Animal Crossing Villager, Isabelle, Dry Bones
Vehicles:
Unnanounced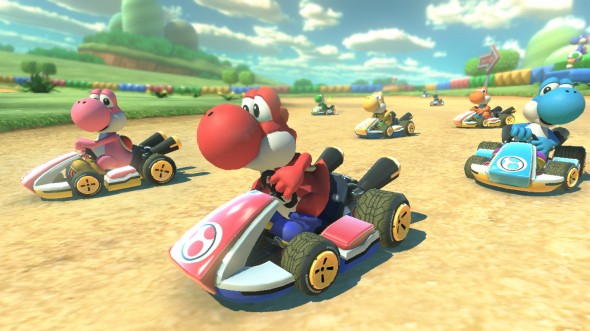 While the second DLC pack is still mostly obscure, there is good reason to preorder both, aside from the discount. You recieve a set of free Yoshi and Shy Guy color alterations to drive around in, immediately after you preorder. You can get in on the good fun of new updates right now on Mario Kart 8, if you so wish.
Nintendo is clearly going all out to give players the best experience they can with Mario Kart 8, with amiibo support, 16 new courses, 6 new characters, new karts, gliders and more. There is certainty no lack of content to choose from with the new Mario Kart game, making a fantastic game all the more satisfying. Will you be picking up any DLC for Mario Kart 8? Let us know in the comments below.